Welcome to the Irish Eurovision fan club, otherwise known as OGAE Ireland. Celebrating all aspects of the Eurovision from the contest to the artists to the people we meet along the way.
The club's main focus's are the promotion of the Eurovision in Ireland as well as bringing our wonderful community together, because who doesn't love the Eurovision and sharing that experience with friends!
We run several events throughout the year, not just in Eurovision season. Keep an eye on our News section for more info.
OGAE stands for Organisation Générale des Amateurs de l'Eurovision
Founded in the 90s, we are the Eurovision fan club for Ireland and part of the OGAE Network. This site provides information regarding the structure of OGAE Ireland and details of useful contacts.
Although OGAE is the largest Eurovision fan network and seeks to collaborate with the contest organisers, it is in no way connected to, or endorsed by the Eurovision Song Contest Organisation.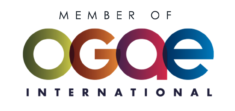 Latest News