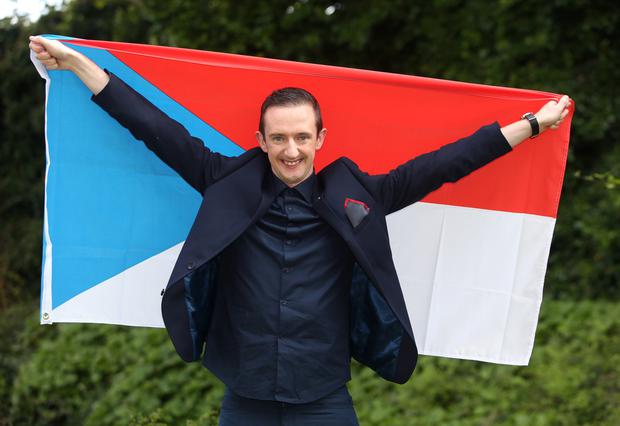 Most Eurovision fans have at one point in their lives thought, 'Maybe I could write a song for Eurovision', generally after a few sherry's to help drown their sorrows after seeing their own country fail to get into the Eurovision final once again. Rarely does this ever materialise though.
However, in the case of Irishman Aidan O'Connor he paired his love of Eurovision with his skills as an English teacher and put pen to paper. His first song in a Eurovision national selection show was back in 2011 in Lithuania when Kas jos tokios performed his song Unbreakable from inside a wooden box for the whole duration of the song. Fast forward to 2023 and Aidan has had over 40 songs in various national finals around Europe, including a song in the Lithuania, San Marino, Malta & Romania national competitions this year. In Romania his song Statues sung by X Factor Romania finalist Andrei Dutu finished in third place.
It was in 2016 in Stockholm when Aidan's songwriting skills really paid off as he had the honour of co-writing the song that brought The Czech Republic to the Eurovision Song Contest final for the very first time. Aidan, alongside Sara Biglert & Christian Schneider, wrote the song I Stand which was sung by Gabriela Guncikova and which finished in 25th place in the final.
Speaking to the Irish Eurovision podcast, I'm Sorry Zero Points, Aidan described that experience as "a dream come true…. It was one of the most special times in my life". Aidan went on to described how the song was internally selected by the Czech delegation and it was originally supposed to be song by a different singer but things changed and for a while the song was dropped but only to be chosen again by Gabriela.
Aidan also explained the process of staging the song in Stockholm and the professionalism of the Swedish team at SVT who were producing the Eurovision Song Contest that year. After the rehearsals they were able to meet the producers and tweak things such as camera angles and lighting.
Having Aidan in the final in 2016 meant Ireland had something to cheer about, after Nicky Byrne who represented Ireland with his song Sunlight that year failed to make the Eurovision final. However, Aidan went on to discuss how he met Nicky & Marty Whelan and Nicky's backing singer Janet Grogan at the "epic" Opening Ceremony in Stockholm which included performances by Loreen, Carola, Mans Zelmerlow & a talk by Bjorn from ABBA.
Janet Grogan is someone who would cross Aidan's path again in 2022 when she sang his song Ashes of Yesterday in the Irish Eurosong and came second behind Brooke Scullion & That's Rich. Of course Aidan mentioned how he would love the opportunity to see one of his songs represent his home country in Eurovision one day.
When it comes to giving out words of wisdom to budding Eurovision songwriters Aidan advised, "you shouldn't write a Eurovision song, you should write a song that you love and that you are proud of and represents everything you want to say, because in Eurovision we get a lot of people trying to emulate what has won before."
He goes on to say, "It's like with life, if you try and copy someone else or write to try and win, that can take away from what is a beautiful song and the message you are trying to write. But of course there are certain things you need, you should get to the chorus within the first minute and the first 30 seconds of the song is huge as you need to grab people's attention as much as you can. Those hooks can be important."
To listen to the interview in full click here.