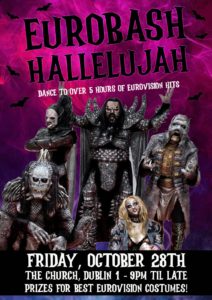 Are the spirits calling your name? Are you ready to work your magic?? Are Vampires alive???
Eurobash is back with a Halloween spectacular. 👻 Join us on October 28th from 9pm for over 5 hours of non-stop Eurovision hits in The Church, Dublin 1. We'll have prizes for best costumes (bonus points for Eurovision themes!), drink promos and did we mention, non stop Eurovision hits?! 😈
Hope to see you there! 🎃
The road to Liverpool begins with Eurobash Dublin!